Posted by Studentbox user
Enjoy some sweet potato goodness with nutrition and food science student Sophie's Mexican-inspired recipe: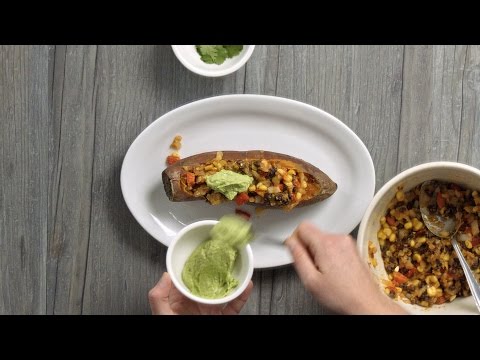 Do it yourself
Ingredients
1 medium sweet potato
1 x 400 g can black beans, rinsed and drained
1 x 125 g can corn
½ red capsicum
½ white onion
1 clove garlic, minced
1 lime, juiced
1 Tbs olive oil
½ tsp chilli
¼ tsp cinnamon
¼ tsp paprika
¼ tsp cumin
Guacamole and coriander to serve (optional)
Method
1. Bake the sweet potato in aluminium foil at 200oC for 1 hour.
2. Fry the capsicum, onion, garlic and spices in the oil on low heat for about 5 minutes.
3. When the sweet potato is soft, scoop out most of the flesh and add to the fry pan. Add the black beans, corn and lime juice and mix.
4. Scoop the bean mix into the sweet potato and top with coriander or guacamole.
* You can use leftover bean mix as a yummy taco or burrito filling, or on its own.
Tagged: